Trail Rides
Both trail rides are guided. Closed-toed shoes with a heel (1/2") are mandatory. 
One Hour Trail Ride
The one-hour trail rides are led by a guide. The rides go through some of the best countrysides Canada has to offer including meadows, forested areas and streams with beautiful views of the escarpment. The ride can be tailored to suit the ability of the riders. Please note that the trail rides go through forested trails so you need to wear long pants and appropriate closed-toe shoes or boots. Helmets must also be worn.
One-hour ride $70.00 per person (includes helmet)
Two-Hour Trail Ride
These rides are only available to experienced riders as the terrain is challenging and being on a horse for 2 hours takes a bit more of a seasoned behind! We try to tailor each ride to suit the ability of the riders, but knowing the basics is required for the two-hour outing. Please note that the two-hour trail ride is subject to weather and trail conditions. The two-hour trail closes during the winter season.
Two hours ride $120.00 per person (includes helmet)
*Please note: 2-hour trail ride not available on weekends or holidays
The Fine Print
payment in full is required at the time of booking.
Riders must be aged 12 or older for trail rides (ID may be checked) as riders must be able to steer and manage their horse independently.
Weight maximum is 280 pounds (maybe less depending on trail conditions)
All trail rides are subject to weather and trail conditions. We will ride in the rain, however, rides will be postponed or rescheduled in thunderstorms or snow squalls.
Large groups require pre-payment which can be made through a credit card or e-mail transfer.
A $15.00 charge will apply for cancellations made 48 hours in advance.
No refunds will be issued if cancellation is made within less than 48 hours
Height, age and weight restrictions apply. Please contact us if you have concerns
Please arrive 15 minutes prior to your scheduled booking.
We accept cash, e-transfer and credit cards on-site for payments.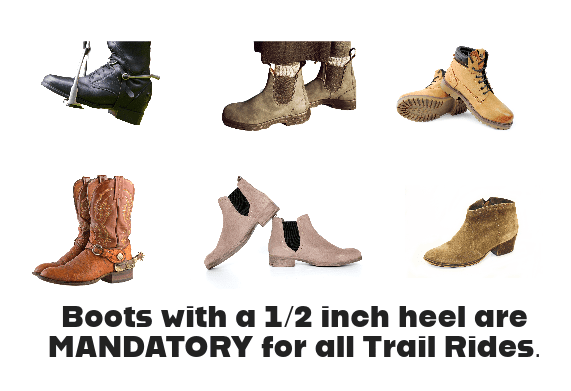 Gift Certificates
Looking for the perfect gift for the "Horse Person" in your life? Look no further!
Please give us a call at 705-445-8544.